The Sacred Heart of Jesus
This is a child page of Clonskeagh Parish Shrines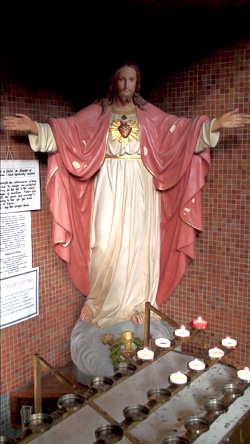 The Sacred Heart of Jesus is one of the most famous religious devotions to Jesus's physical heart as the representation of His divine love for Humanity. It stresses the central Christian concept of loving and adoring Jesus. The origin of this devotion in its modern form is derived from a French Roman Catholic nun, Marguerite Marie Alacoque, who said she learned the devotion from Jesus in visions. Predecessors to the modern devotion arose unmistakeably in the Middle Ages in various facets of Christian mysticism.
From the Catechism: Only the Heart of Christ who knows the depths of his Father's love could reveal to us the abyss of his mercy in so simple and beautiful a way. (P:1439)
Prayer:
O Sacred Heart of Jesus, I place my trust in Thee,
Whatever may befall me, Lord, though dark the hour may be;
In all my woes, in all my joys, though nought but grief I see,
O Sacred Heart of Jesus, I place my trust in Thee.
When those I loved have passed away, and I am sore distressed,
0 Sacred Heart of Jesus, I fly to Thee for rest.
In all my trials, great or small, my confidence shall be
Unshaken as I cry, dear Lord, I place my trust in Thee.
This is my one sweet prayer, dear Lord, my faith, my trust, my love,
But most of all in that last hour, when death points up above,
O sweet Saviour, may Thy face smile on my soul all free.
Oh may I cry with rapturous love, I've placed my trust in Thee.