St. Brigid (450 – 523 approx)
This is a child page of Clonskeagh Parish Shrines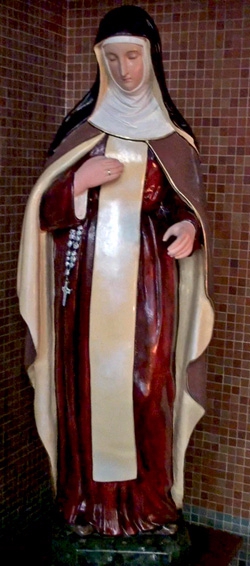 Saint Brigid of Kildare or Brigid of Ireland (c. 451 – 525) is one of Ireland's patron saints along with Saints Patrick and Saint Columcille. Her feast day is February 1, or Candlemas, the traditional first day of spring in Ireland. She is believed to have been an Irish Christian nun, abbess, and foundress of several convents.
Although Brigid is probably the best known Irish saint after Patrick, her life cannot be documented with much certainty. Cogitosus's Life of Brigid was written not much more than a century after her death, but he was mainly concerned with recounting her many miracles. She had a generous heart and could never refuse the poor who came to her door. Brigid was famous for her common-sense and most of all for her holiness: in her lifetime she was regarded as a saint. Since there were no convents in Ireland, Brigid began one in Kildare. The sisters of St. Brigid prayed simply and deeply and served the poor.
Prayer:
St. Brigid, with you we pray for the renewal of monastic life in Ireland. May your example lead us into deeper commitment to proclaim Christ, to live in His presence and to give our life into His service, especially by offering practical help to those in need. Intercede for us to be open to the guidance of the Holy Spirit in our life, and as you so miraculously helped everyone in need, I implore you to help those I pray for (name).
Amen.