Simon of Cyrene helps Jesus carry His Cross
This is a child page of Follow the Stations of the Cross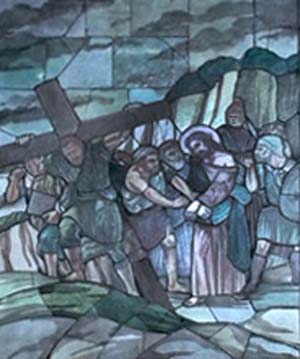 We adore thee O Christ, and we bless you.
Because of your holy cross you have redeemed the world.
And they compelled the passer-by, Simon of Cyrene, who was coming in from the country, the father of Alexander and Rufus, to carry his cross (Mk 15:21)
Mary, in the most profound sorrow, accompanies her son on his way to Calvary. Simon, an ordinary man, is not prepared for anything unusual. He is on his way home from work. The evangelists underline the fact that he had to be forced to carry the cross that is too heavy for Jesus.
Even our most feeble "yes" to suffering – despite our resistance and our being unaware of it – becomes a transforming grace, provided that we accept it from the hands of God. Job, a patient man, uttered bitter words for his undeserved fate and great suffering, nevertheless was able to accept everything as coming from God: "The Lord has given and the Lord has taken away. The Lord's name be praised." - this earned him God's justification.
Our Father …..
Is there anyone who would not weep.
Whelmed in miseries so deep,
Christ's dear mother to behold?