Jesus Meets His Mother
This is a child page of Follow the Stations of the Cross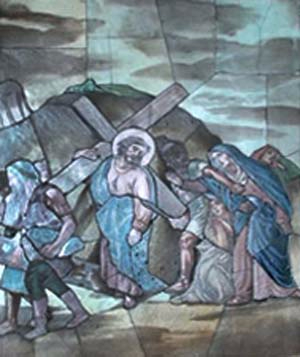 We adore thee O Christ, and we bless you.
Because of your holy cross you have redeemed the world.
Simeon said to Mary, "This child is set for the fall and rising of many in Israel, and for a sign that is spoken against and a sword will pierce through your own soul also" ( LK 2:34-35).
As Mary, the mother, played an essential role in Jesus' conception and birth, likewise she played an essential part in his passion by sharing in his suffering and death. No on e is without a companion or a friend, yet on the cross the two criminals crucified with Jesus were of no comfort to him; he needed the presence of the sinless woman, Mary, the ever- Virgin Mother, whom he could make the mother of his mystical body, the Church.
Jesus entrusts to his sorrowful Mother his beloved disciple, John, who would be spiritually united with Peter, the representative of ecclesial unity. Thus, Mary the Immaculate becomes the mother of the Petrine Church where – on behalf of all believers – she pleads the Holy Spirit by whom she was overshadowed at Nazareth.
Our Father …..
Christ above in torment hangs,
She beneath beholds the pangs
Of her dying Glorious Son.