Jesus Dies on the Cross
This is a child page of Follow the Stations of the Cross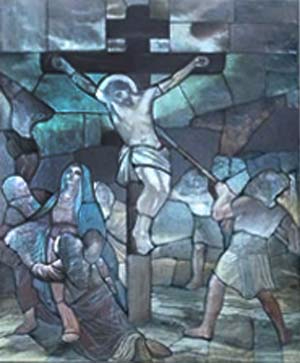 We adore thee O Christ, and we bless you.
Because of your holy cross you have redeemed the world.
And when the sixth hour had come, there was a darkness over the whole land until the ninth hour. And at the ninth hour Jesus cried with a loud voice, "Eloi, Eloi, lama sabachtani?" which means, "My God, my God, why hast thou forsaken me?" ...and one ran and, filling a sponge full of vinegar, put it on a reed and gave it to him to drink ...And Jesus uttered a loud cry, and breathed his last. ...And when the centurion, who stood facing him, saw that he had breathed his last, he said, "Truly this man was the son of God" (Mk 15:33-39).
Jesus is suspended between heaven and earth, repudiated by men and forsaken by his Father, thus restoring the unity between them. Extending his arms he reached out to both the sinner who goes back to him and to the one who turns away from him and yet could not hinder Christ to reach out to him. The vertical beam of the cross bridges the gap between God and man, while the horizontal one embraces the ends of the earth.
Bending his head, Jesus gives up the spirit, the same spirit whom he will breath on the Church on the day of his Resurrection, and in this way all is truly accomplished.
Our Father...
For the sins of his own nation
She saw him hang in desolation
Till his spirit forth he sent.