Angels
This is a child page of Clonskeagh Parish Shrines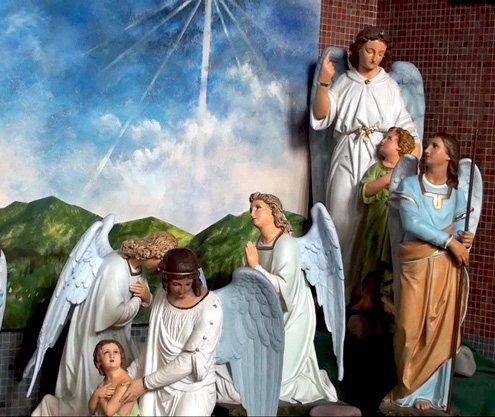 The angels are great, spiritual, non-corporeal creatures. They are the servants and messengers of God and they surpass in perfection and power all visible creatures. Christ is the centre of the angelic world; they are His angels. The angel Gabriel announced His birth and that of John the Baptist. They surround Jesus in infancy, serving Him in the desert, strengthening Him in his agony in the garden. Again it is angels who proclaim the Good News of Christ's Resurrection: 'Why look among the dead for someone who is alive? He is not here, he is risen.' (Luke 24:6) In her public worship, the Church joins with the angels to adore the all holy God. And from infancy every man, woman and child has a guardian angel as a watchful protector and powerful intercessor.
Prayer:

Angel of God, my Guardian dear,
To whom God's love commits me here.
Ever this day be at my side To light and guard to rule and guide.
Amen.